Vinyl Taco is lighting up downtown in a vintage gathering space and creating the most fun anywhere.
"Explore the Space!"
"This area NEEDS more places like Vinyl Taco. Not only is the food absolutely amazing (fish tacos are my favorite) but the staff was very pleasant and I observed they had a great rapport with their customers. If you're downtown, do yourself a favor and stop in Vinyl Taco." ~ Jack MacArthur
---
"AMAZING FOOD! great margaritas. fun and friendly staff. laid back, vintage & modern atmosphere." ~ Amy McConnell
---
"Awesome place- great food, awesome service and the moonshine is sure tasty!!" ~ Deanne 'Collins' Dooley
---
"Went there on Saturday night. Amazing! They were very busy and still kept us happy with great food and drinks! :-)" ~ Kayla Krabseth
---
"Great food, awesome Margaritas, good atmosphere. The waitresses are on top of it which makes this place even better!" ~ Bekah Szurek
---
"Authentic Mexican tacos and appetizers combined with great service and great tunes. It doesn't get any better." ~ Matt Burton
---
Your State's Best Mexican Restaurant
Your State's Best Mexican Restaurant to Visit this Weekend
Written by: msn.com's Lovefood Staff
August 27th, 2022
North Dakota: Vinyl Taco, Fargo
Vinyl Taco looks like a hip dive bar from the outside but it matches its cool vibes with some seriously good food. The restaurant, which has wall art and a patio fenced in by bicycle wheels, is famed for moreish dishes inspired by Mexican street food. People come for the food, like tacos stuffed with pork belly, and tend to stay for the laid-back atmosphere and great music, which comes via a selection of vinyl records.
The Best Tacos In Every State
The Best Tacos in Every State, According to Yelp
Written by: Eat This, Not That! Editors
August 14th, 2020
Tacos have become a culinary sensation, with countless iterations across the 50 states alone. But do you know exactly where to go to find the best tacos—and what to order once you're there? To help us find the absolute best taco in every state, we consulted our friends at Yelp.
Methodology: This is a list of the best taco places in every state in the country, according to Yelp. The company identified businesses in the restaurants and food categories with a large concentration of reviews mentioning "taco," then ranked those spots using a number of factors, including the total volume and ratings of reviews mentioning "taco."
Salivating yet? Put away the utensils and grab an extra stack of napkins before you head to grab the best taco in every state.
NORTH DAKOTA: Crispy Chicken and Mango Taco at Vinyl Taco in Fargo
A taco with crispy chicken? We're in. Add mango to it, and it's easy to see exactly why this is one of the restaurant's most popular menu items. And you can enjoy these tacos while you're listening to music played on vinyl.
Mixologist of the Month: Vinyl Taco
Mixologist of The Month: Vinyl Taco
Written by: Nolan Schmidt, Fargo Monthly
Photography by: Hillary Ehlen
July 2018
Vinyl Taco has become successful thanks to their perfect blending of food and drink. Megan Ward shares one of their newest beverages.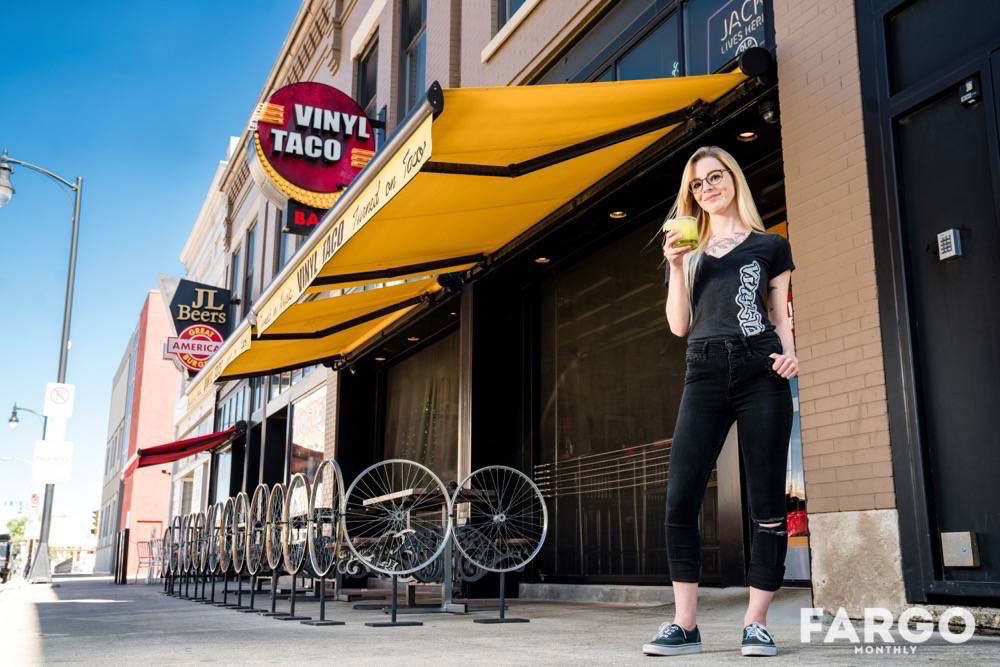 It's no secret that we all crave the perfect summer beverage. Not only that, but why would we strive for just a great drink? Why not great food too? Vinyl Taco in Downtown Fargo has become wildly successful thanks to their perfect blending of food and drink. Have a specific taco you love? Chances are Vinyl Taco has a drink to complement it. We had one of their great mixologists, Megan Ward, introduce us to one of their newest beverages.
Now that it's summer and patio season, are the margaritas flying out of the bar here at Vinyl Taco?
Oh, absolutely. Especially the jumbo margs, you got your groups of friends coming out and they want to share one (or have one for themselves). I would say our classic lime would be the most popular, it's like a normal margarita that people seem to like the most. However, I think the strawberry is really good too.
So, how does one make an avocado margarita?
Well, it's actually a lot like our Cadillac margarita that we already have on the menu. The only difference with this one is that it does not have Triple Sec in it. Rather than putting that in there, we put in avocado salsa. It still has lime juice, the tequila and some syrup, but the avocado replaces the Triple Sec.
What kind of flavor does the avocado bring to a margarita? When you're drinking it, what does it remind you of? And do you think people are turned off when they hear avocado in a margarita?
It's just like guacamole, I think. I don't think people get turned off by it, I actually think people will love to come in and have this drink. It's one of those things where if you try it once, you may never look back because it's that good. If you like guacamole, salsa and really good Mexican food this is going to be perfect for you.
Which taco on the menu would you pair with this drink?
I would have to say the fish taco because you already have the avocado salsa on it. Maybe the cilantro lime chicken taco too. The drink kind of cools down the jalapeño ranch that's on that one.
How do you relate to this drink on a personal level?
It's something new, mixed with something traditional. I really like to get out and try new things, that's just the way I am. I do things that are outside of the box, but I don't veer too far away from the norm. This is still a margarita, it's just a little different is all.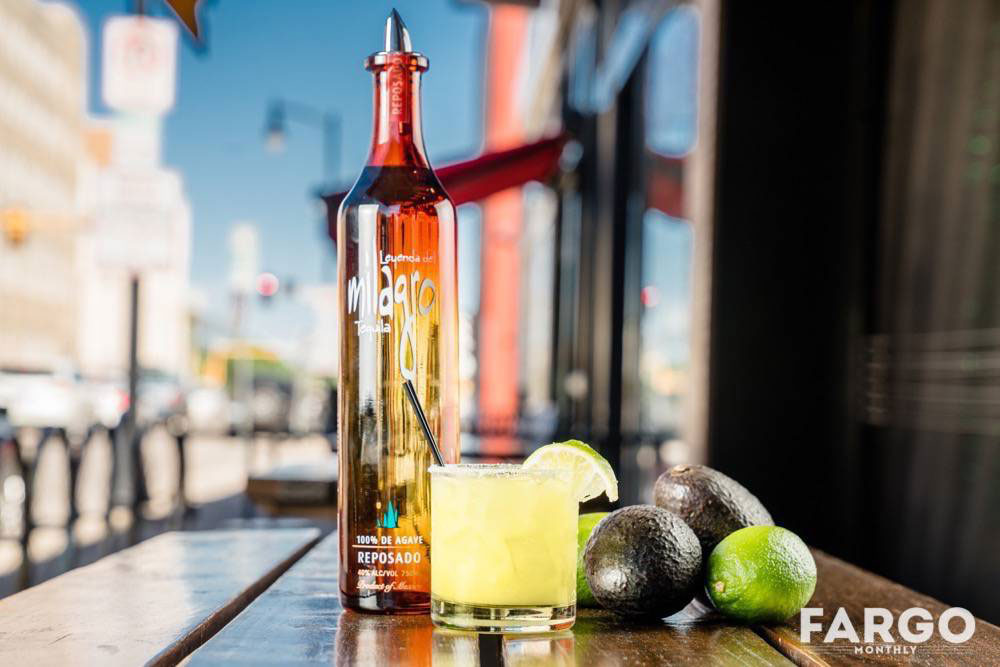 Avocado Margarita
Leyenda del Milagro Tequila
Lime Juice
Avocado Salsa
Salt (For rim of glass)
Best Tacos in Every State
Best Taco in North Dakota – Vinyl Taco
By Thrillist Food
May 4th, 2018
The record-shop-themed interior of Vinyl Taco isn't exactly what one expects in the middle of North Dakota. But this little slice of modern hip in the northern prairies serves up tacos that could stand up to anything from a bigger city. The menu is long on Mexican street fare, and if you like the traditional stuff the chili chipotle barbacoa is the way to go. But Vinyl's made its mark with more-creative tacos. Try the smoked sweet and sour pork belly with tobacco onions, or the crispy chicken and mango with fresh spinach, cheese, and a sweet onion vinaigrette.
www.thrillist.com
Fargo Monthly's Flavor Awards 2017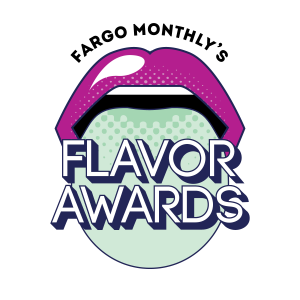 Written by: Erica Rapp, Fargo Monthly. May 2017
Best Taco – Crispy Chicken & Mango
This taco was the runner-up to another one of Vinyl Taco's creations in last year's Flavor Awards, so it comes as no surprise to see it at the top this year. In this tortilla, crispy crusted chicken is accompanied by fresh spinach, shredded cheese, fresh diced mango and a house-made sweet onion vinaigrette for a sweet and savory flavor combo.
Best Vegetarian Dish – Vegetarian Taco
Vegetarian dishes vary far and wide across every restaurant in town, but the public clearly fancies tacos this time around. This veggie taco is loaded with grilled queso fresco, creamed corn, pico, black beans, serrano-avocado salsa and blanco crema. Even if you're not a vegetarian, this taco will do you no wrong.
High Plains Reader's Best of the Best 2017
Best Taco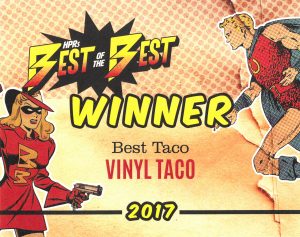 May 28th, 2017
High Plains Reader's Best of the Best 2016
Best Taco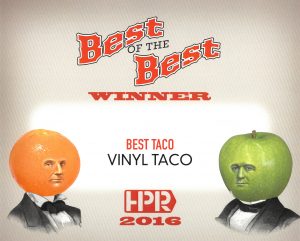 June 5th, 2016
Fargo Monthly's Flavor Awards 2016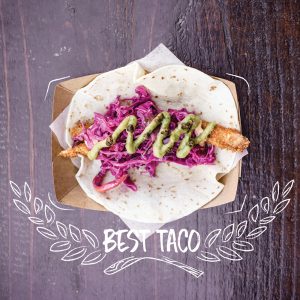 Written by: Erica Rapp, Fargo Monthly
Photography by: Paul Flessland
June 2016
BEST TACO – Crispy Fish Taco – 
Crispy whitefish sits on a warm tortilla and is layered with red slaw, Sriracha tartar, fried capers and a tasty serrano- avocado salsa for a flavor palate that any type of taco lover can't help but seriously enjoy.
High Plains Reader's Best of the Best 2015
Best Taco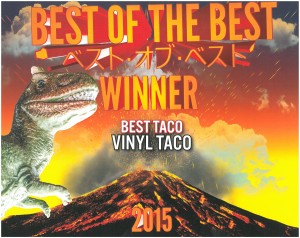 2015
Mixologist Ben Becker
Written by: Andrew Jason, Fargo Monthly
Photography by: J. Alan Paul Photography
October 5th, 2014
Ben Becker went from fine wines at Doolittle's Woodfire Grill on the southside, to Spicy Chihuahuas at Vinyl Taco downtown, and that's just fine with him. Becker, who has been slinging drinks for more than five years, came to Vinyl Taco in February and is enjoying the change of scenery.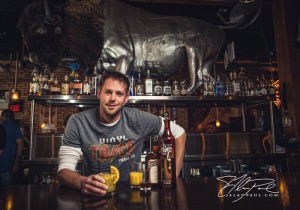 "I really enjoy being downtown, especially with the spots they are making to make downtown hopping," said Becker. "I would like to see some people who live on the outskirts of town trek into the city more, but I'm certainly not complaining with what we have."
This Mexican bar/restaurant, which serves authentic street food, such as tacos served in cardboard trays, is also known for its drinks menu. Becker recommends Vinyl Taco's most popular drink, the Cadillac Margarita, which includes Milagro Tequila Silver, Cointreau, simple syrup and fresh lime juice with a salted rim and a lime wedge.
Vinyl Taco's drink menu is seasonal, giving the bar/ restaurant some cocktail variety and capitalizes on new trends as fall rolls into the area.
"Obviously, people have a habit of becoming obsessed with the pumpkin," Becker said. "Pumpkin is good and as fun as it may be, it's sort of holiday specific. We wanted to do more seasonally specific drinks … We were looking for earthy, rich fall/autumn, spicy drinks to get away from the summery citrus, light drinks."
Becker believes that The Clove Shack, is that perfect drink. The clove flavor stands out but isn't in your face and it's light enough to drink a couple, he said.
As a Mexican restaurant, Vinyl Taco serves plenty of tequila, which Becker is liking more by the day. He prides himself on the fact that they are only serving quality tequila, which he promises, "won't leave you hating Vinyl Taco in the morning."
New Restaurants in Fargo-Moorhead
Written by: Andrew Jason, Fargo Monthly
October 1st, 2014
Vinyl Taco
It's all about the sights, sounds and tastes at Vinyl Taco. Seemingly always packed for lunch, the eatery is an ideal workday getaway, with bands like Fleetwood Mac and David Bowie playing on the turntables behind the bar. The front windows open like garage doors for great street watching, there's the antique Coca-Cola coolerturned- couch, original artwork and the massive bison amid liquor bottles. Besides the tacos, Vinyl Taco is known for its drinks and is open late.
Fargo's 10 Best Restaurants: From Local Eats to Fine Dining
Written by: Chloe Hay, The Culture Trip
September 15th, 2014
As North Dakota's largest city, Fargo is recognized as the cultural centre of the state. Home to a plethora of exquisite restaurants specializing in everything from seafood to pizzas, and steaks to sushi; Fargo has a restaurant to suit every fancy. With so many to choose from and new ones opening every day, we have updated our previous city restaurant guide to include some new eateries worthy of praise.
Vinyl Taco
Go for the music as well as the tacos, Vinyl Taco plays records on turntables behind the bar in this authentically Mexican joint. Serving street food both of American and Mexican origins, order a bowl of chips and guacamole to start before deciding between a choice of enchiladas, chimichangas, tacos and sides. A great selection of margaritas, tequila, moonshine and bourbon are available to complement the food, and the agua de hibiscus is a deliciously fresh choice of beverage for those looking for something non-alcoholic.
High Plains Reader's Best of the Best 2014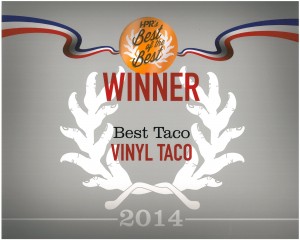 Best Taco
May 1st, 2014
Even though Vinyl Taco is fairly new to Fargo, its popularity and rave reviews are growing exponentially. The recently extended menu offers more "best taco" options for guests, along with a stellar drink menu. Great food and a great atmosphere (all the music is actual vinyl played in the back) makes Vinyl Taco a hot spot for a well-priced and enjoyable meal.
More Than a Shot: Vinyl Taco's Tequila Selections Meant for Sipping
By: John Lamb, The Forum of Fargo-Moorhead
February 3rd, 2014
Bourbon and whiskey continue to ride out their resurgent popularity, but the future buzz booze may be a little lighter and brighter. Tequila is outgrowing its reputation as fuel for a frat boy's hangover and getting some notice for its complex flavors. "I think it's going to be the next new trend," says Brent McKenzie, manager at Vinyl Taco in downtown Fargo. "I shouldn't say it's the next big thing, because it's already happening."
Since opening in the fall, Vinyl Taco has been helping reshape the appreciation of tequila from a spring break shot to something sipped and thoughtfully considered. "Tequila shouldn't be looked down on because of what Jose Cuervo did to the market. It should be appreciated," McKenzie said. "If you sip it, it's a fantastic liquor." When customers order a tequila, Vinyl Taco staffers don't serve it with salt and limes, what McKenzie refers to as "training wheels," unless requested. "If they follow the recommendation, they'll be pleasantly surprised and not overpowered," he says. "Let's get back to its heritage. The salt and lime, that's Americanized. Traditionally in Mexico, it's meant to be sipped neat," says Cassie Kouba, who works at Republic National Distributing Company, Fargo, doing training and promotions on different liquors. "You can sip tequila like you can sip a scotch. There are days to enjoy a good tequila on the rocks," she adds. Kouba and McKenzie both agree that the first thing you should know about tequila is just what kind of tequila you're drinking. McKenzie says a big obstacle with the drink is that people associate it bad hangovers, but don't take into consideration the quantity they were drinking – usually shots – and the quality of what they were drinking.
All tequilas are made from the agave plant, but the finer tequilas are made with 100 percent agave, something to look for on the label. A bulk of tequilas are what are unfavorably known as "mixtos," a mix of agave with added sugar and even caramel or coloring added to give it the gold color. Other items to look for on the label are the age distinctions. "Blanco" means un-aged, "reposado" varieties have been aged for a year in oak barrels, while "anejo" has been aged for more than a year in the barrels and tend to be more expensive. Not a lot has changed in the harvesting or manufacturing of tequila, which keeps the prices down. "You don't need to spend a fortune to get good tequila," McKenzie says. "So many people ask for Patron because they recognize the name, but any day of the week I will recommend Milagro at a fraction of the price."
A neat Patron Silver is $9. The Milagro silver is $6.50. "The price is the name, not the quality," says Kouba. Vinyl Taco does serve Jose Cuervo, but the bartender suggests El Jimador and Lunazul (both $4.50) for the same price. Even among types there can be a big range in prices and flavors. At $7 the Milagros Reposado has a nice richness and bold complexity. For $4.75 the El Jimador Reposado doesn't have that familiar tequila fragrance and is a far mellower drink. The priciest tequila is Milagro Select Barrel for $10, but you don't have to go top shelf to make a mixed drink. Margaritas are the most popular tequila vehicles at Vinyl Taco, and the Cadillac Margarita – Milagro silver, Cointreau, simple syrup, fresh lime juice, salted rim and a lime wedge for $10 – is the biggest mover. Another bar classic, a Tequila Sunrise, gets made over as a Vinyl Sunrise, with Lunazul Reposado, pineapple juice, hibiscus tea and rosemary sprig for $7. "It's a spinoff of an old classic, but we're doing it in a different way and it tastes great," McKenzie says. The mix, particularly the juice and hibiscus give it a fresh lightness, perfect for when the bar can open its doors in the summer. People have warmed up to tequila twists he's put on classic cocktails, like the Mexi Mule, a variety of the Moscow Mule, mixing Milagro Reposado, fresh lime juice, simple syrup, ginger beer and a lime wedge for $10. "What I like about tequila is that it's not vodka. It's not neutral like vodka, but you can use tequila instead of vodka in a lot of drinks and it tastes just as good … I don't drink a bloody Mary unless it has tequila," Kouba says, referring to a drink called, Bloody Maria. She adds that tequila in a cosmopolitan adds a little zest to the drink. As far as food pairings go, no surprise, McKenzie says tequila and fresh citrus juices complement spicy foods. But even neat, tequila holds its own. "I try to encourage (guests) to think of it in the same context as a whiskey," he says. "Would you sip a whiskey with a steak? Absolutely. So why wouldn't you with a tequila?"
Take Vinyl Taco for a spin if you enjoy music and Mexican food.
By: Dave Olson, The Forum of Fargo-Moorhead
October 3rd, 2013
If you're into music and tacos, you'll find platters of both at Vinyl Taco.
The new downtown Fargo eatery is tentatively set to open sometime between Oct. 16 and Oct. 21. It will offer a full-service bar and restaurant, and the food and drinks will have a distinctly south-of-the-border flavor.
The "vinyl" in Vinyl Taco refers to the bar's analog music collection that bartenders will play on turntables kept behind the bar. Owner Warren Ackley said employees will play requests, but for the most part they will spin entire albums at a time, not singles. The setup is in keeping with Vinyl Taco's mission statement – "Tuned in music, turned on tacos" – said Ackley, who developed the restaurant with business partners Randy Thorson and Lance Thorson.
Vinyl Taco will have two sides: One is the bar and restaurant, which seats about 80 and is aimed at the 21-and-older crowd; the other is a standing area where people, including those younger than 21, can order tacos and Mexican soft drinks to go.
From the standing area, customers can look through a window and view the gleaming stainless steel of the kitchen, where fresh corn tortillas will be made in-house. Ackley described Vinyl Taco's cuisine as more street food than restaurant fare. The building itself was modified to invite the outdoors inside. The front windows are actually large doors that can be raised to reveal large screen doors.
While showing how the doors worked, Ackley said they expect the screen doors will be used for up to six months out of the year. He also showed off the restaurant floor, which is comprised of 200-year-old floorboards taken from a barn in Gettysburg, Pa.The brick walls and tile ceiling are original to the 1910 structure, according to Ackley, who said the business has pretty much everything it needs to start up except for one critical ingredient – workers. He said Vinyl Taco is still looking to hire bartenders, cooks and servers. Anyone interested is encouraged to show up at the restaurant, or apply via the Vinyl Taco Facebook page.